Hot Dipped Galvanized Wire Mesh(GAW)-Galvanized Before Welded Mesh(GBW)
Hot Dipped Galvanized After Weld (GAW)
Hot Dipped Galvanized After Weld (GAW) is strong and durable. These products are made by dipping previously welded mesh into a bath of molten zinc. The entire fence or mesh, including the welded areas, is thoroughly sealed and protected against rust and corrosion. GAW mesh is made of steel wire without pre galvanizing layer. Can be further coated with chemical powder.
Covered with melt zinc coating layer on the surface, the GAW mesh sheet will last longer time than GBW galvanized before welded wire mesh. The products are available in a wide variety of gauges and mesh sizes. These determine the final use of the product.
Features and Uses
Hot Dipped Galvanised Wire Mesh enjoys the feature of corrosion resistance compared with plain welded wire mesh. Mainly used as fencing panels or further fabricated into wire products (partitions, wire container, wire baskets, etc) and stucco netting products.
Square or rectangular opening. Usually made of plain steel wire by spot welding to form a firm structure and flat surface.
Processing:
Low carbon steel wire arranged in lines and spot welded to flat structure, and then cold-plating (plating), hot dip, PVC plastic coating surface passivation. The mesh panels offer surface smooth, uniform mesh, good performance, stability, anti-corrosion, anti-corrosion resistance.
GBW Welded Wire Mesh
Welded mesh rolls and panels made in the processing of Electro Galvanized Before Weld (GBW) is economical and ideal for industrial and commercial uses. The wires used are galvanized zinc plated before they are welded into a variety of mesh sizes. Different gauge wires are used. The gauge and mesh sizes are determined by the final use of the product. Smaller meshes made with lighter gauge wires are ideal for making cages for small animals, tree guards, corn storing circles, while the mesh rolls with heavier gauges and larger openings are mainly used for security fences.
GBW Welded Mesh has one disadvantage. During the welding process, the galvanizing at the weld spots, where the wires intersect, is burned away. This leaves places in the mesh that have lost the galvanizing protection against rust and corrosion. The weld locations are critical spots that tend to hold moisture longer than the individual wires. This can promote a more rapid decay, as rust eats into the unprotected steel. In interior locations, where the mesh or fence is not exposed to the elements, this is not as much of a problem. Heavier gauge wire will last longer due to the fact that it will take longer for rust to eat through the wire.
Wire Diameter(mm)

Aperture (mm)

Width(m)

Length

Inch

MM

2.0mm-3.2mm

1"

25.4

0.914m-1.83m

The length does not limit

2.0mm-4.5mm

2"

50.8

0.914m-2.75m

2.0mm-6.0mm

3"

70.2

0.914m-2.75m

2.0mm-6.0mm

4"

101.6

0.914m-2.75m

2.0mm-6.0mm

5"

127

0.914m-2.75m

2.0mm-6.0mm

6"

152.4

0.914m-2.75m

2.0mm-6.0mm

7"

177.8

0.914m-2.75m

2.0mm-6.0mm

8"

203.2

0.914m-2.75m
Welded Wire Mesh Fence System- Welded Mesh in Modular Panels, Supplied with Fence Posts and Razor Barbed Wire.
Framed Standard Welded Mesh Panels are widely used for zoo fencing, road fencing, temporary fencing, airport fencing, railway fencing and various security fencing applications. Steel posts: T post, star picket and Y post are provided with fence panels. Barbed tape concertina security toppings are strongly recommended especially when welded fence systems are designed for vulnerable sites, like jails, military sites, airdrome, high security border barriers. Heavy gauge and small mesh high security panels upon request. Surface treatment is commonly electro galvanizing, hot dipped zinc coating, plastic coating or vinyl coating. Hot dipped zinc coated welded mesh fence offers thicker zinc plating than electro galvanized one and stronger zinc plating adhesion, while costs a little higher. Plastic coated or vinyl coated wire fence has more colors available than galvanized welded fences.
Roll Top Welded Mesh Fence System
Roll top mesh is a kind of spot welded mesh panel fence, offering firm and strong surface. This framed mesh fence offers high safety and more rigidity with a rolled panel top and bottom edge treatment. The common panel width is 3000mm and the the panel length are popular from 900 to 1800mm. Mainly used as schools fencing, sports, parks & play grounds fencing.
The posts with plastic caps connect with the panels while retaining high rigidity. Accessories ensure the easy installation.
Loop Rolled Mesh Panels Types:
Mesh Type

Mesh Type

Mesh Type

Hight

Width

Line wire x cross wire

Nos. Of curves

Post length

Nos. Of brackets

50x200 

60x150 

65x150 

900

2500/2750/3000

4.0x4.0  

2

1600

3

1200

2500/2750/3000

2

2000

4

1500

2500/2750/3000

2

2200

4

1800

2500/2750/3000

2

2500

4

2400

2500/2750/3000

4

2800

6
3D Mesh Panels with Curved Top Panels
Benefits
Safe;
Aesthetic appearance;
High rigidity;
Excellent through vision;
Wide range of colour options;
Available as a complete system.
Surface Treatment:
Panels are manufactured from pre-galvanised wires.
An adhesion coating is applied to allow perfect adhesion with the polyester coating (min. 100 micron).
Standard Weld Mesh (SWM) Fencing Panels or Rolls with Security Top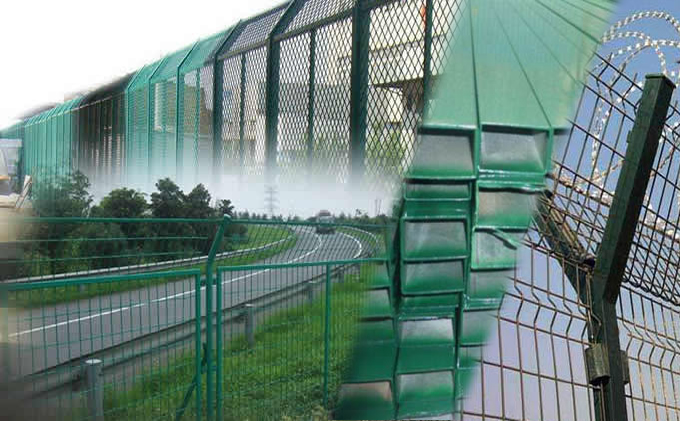 The mesh panels, support posts and toppings meeting the following specifications:
• Type: Standard weld mesh
Weld Mesh Panels:
• Minimum Overall Height: 2600mm plus 300mm buried below ground.
• Width of panels: approximately 2500mm
• Minimum wire thickness: 3mm.
Posts & Fixings
• Steel posts min 3mm thick
Coatings
• All metals Hot Dip Galvanised to BS EN ISO 1461 or equivalent.
• Galvanised wire with polyester coating.
Security Topping
• Barbed Tape Concertina/Razor Coil security topping at least 500mm in height to be applied to the top of the fence.
Products List
Wire Mesh Fence Series

Chain Link Fence

Temporary Fence

Razor Barbed Wire

Fence Post

Fence Accessories

Welded Wire Mesh Panels