High Security Fence
High security fence is the ultimate security fencing system made of generally wire mesh panel fences and concertina razor wire toppings. The security fence panel has close mesh opening and horizontal wires that make it an incredibly robust fencing. This system has good through visibility and is also aesthetically pleasing.
High security fencing system is now rapidly growing in uses. Panels can be palisade type with sharp tops, posts type and railing types. The fence panels can be also made of common welded mesh wire, expanded metal fencing or other metal materials.
High security fencing: chain link fence mesh + razor wire concertina combined system.
High security chain link fence is made with PVC coated chain link fence mesh, razor wire or concertina wire tapes to reinforce the security. Can be used for military uses.
Anti Climb High Security Fence gate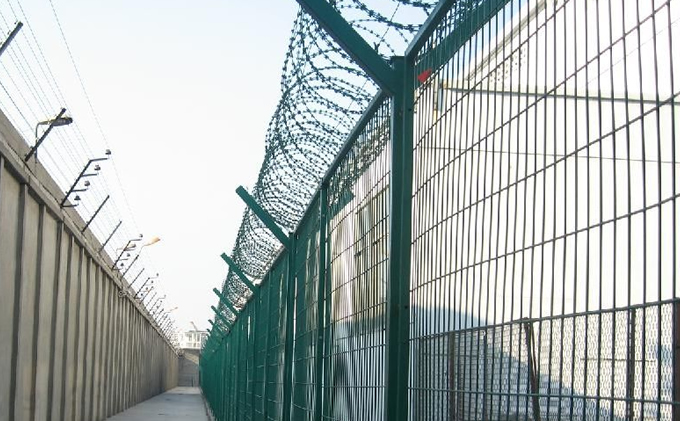 High safety fence+Y fence post +razor barbed wire for prisons and airports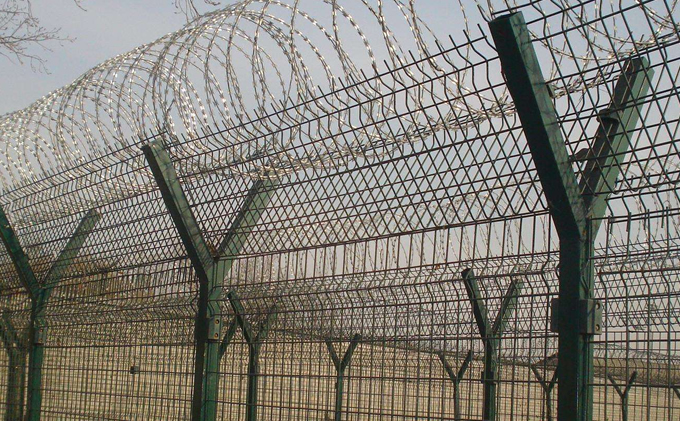 358 High Security Mesh Fence+Y fence post+3D welded fence+razor wire
Materials – MS/ mild steel wire. 
Wire Diameter – 3mm (10 SWG Gauge). 
Opening – 55mm X 55mm Mesh.
Fence Width – 2.62 meter and length - 15 m per roll. 
Finishes: Hot Dip Galvanized, 150GSM or PVC Coated galvanized mild steel.
Helically wound mesh 3.15 mm diameter wire
Character: Serried horizontal wires have good ability to unti-climb. Panel first will be galvanized and then PE hot dipped coated or electrostatic powder coated. After double layer high quality unti-corrupt, the life time will be more than 10 years.
Usage: Widely used in industry, agriculture, building, transportation, etc.
Following is the technical details for 2.40 meter High Security Chain Link Fence System one of our recent fence projects in India Market. We welcome custom orders. 
The high security fencing is composed of 2.40m High Security Chain Link Fence and 7.0m Wide x 2.40m High Security Chain Link Gates in accordance with the following technical specifications.
| | | | |
| --- | --- | --- | --- |
| No. | Description | Qty | Unit |
|   | Supply of Security Chain Link Fence |   |   |
| 01 | 2.40m High Security Chain Link fence | 2900 | Meters |
| 02 | 7.0m Wide x 2.40m High Security Chain Link Gates | 15 | Nos. |
| 03 | Option 1: 1.20m Wide x 2.40m High Security Chain Link Personnel Gate, Type  1 | 15 | Nos. |
| 04 | Option 1: 1.20m Wide x 2.40m High Security Chain Link Personnel Gate, Type  2 | 15 | Nos. |
Products List
Wire Mesh Fence Series

Chain Link Fence

Temporary Fence

Razor Barbed Wire

Fence Post

Fence Accessories

Welded Wire Mesh Panels