Galvanised Steel Field Fence
Field fence is also known as agricultural fence, cattle fence, horse fence, deer fence and sheep fence. The fence firmly affixes the fence wires together, ensures a solid construction over any terrain. Field fences with hot dipped galvanizing treatment provide superior resistance to movement from animal penetration or severe snowstorms. It is woven in four major styles: ring-lock, square knot, hinge joint or fixed knots. All these fences have graduate mesh openings with smaller spacing in the bottom. Suitable for ranch and grassland perimeter fencing of goats, sheep, horses, deer and other animals. The metal fence is simple in structure, easy for maintenance, it has short installation period and less weight, easy for transport.
Processed ith galvanized iron wire as materials, field fencing meshes are supplied in a wide range of sizes and mesh opening.
Why Field Fences for Horses and other Animals?
This wire netting for horses is an easily installed, permanent fencing system designed to provide a safe and secure horse fencing system. The fence system is designed to minimize injuries and secure animals safely. There are no sharp points or hard edges; no boards to break or splinter. The fence is designed using a variety of spacing configurations to accommodate horses, cattle, hogs and other large animals.
Features:
Strong;
Durable;
Good view of animals;
Flexible;
Resisting against rust, rot, UV, weathering, or breakage in normal use.
Field Fences absorb force and springs back. The standard spacing for fence posts is 50 feet. This means fewer posts, less work, less cost and less maintenance.
Square Deal Knot Field Fence has s-shaped knots to form a tough & sturdy structure that stands up to impact from large animals without buckling or sagging. It is a type of anti climbing fence, suitable for goat, sheep and cattle keeping. Commonly known as S knot fence, the S knot is made with a separate piece of wire to attach the line wire to the solid stay wire. The knot is very smooth when you touch and is strong enough to feeding animals.
Woven wire field fence with the Square Deal knot offers rigid performance which help keep its shape over hilly ground. Square Deal Field Fence comes in multiple heights, styles, and gauges. Each style is designed to meet your particular needs. In case you cannot find suitable sizes from specification table below, please contact us with specific requirements.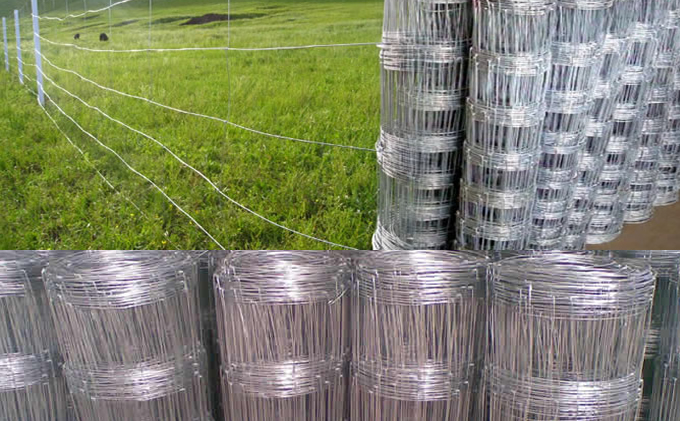 High tensile Fixed Knot deer fence, of  12-1/2 gauge high tensile heavily Class 3 galvanized wire.
Hinge Joint Field Fence: Three Classes according to zinc coating 

Class A: Hot dipped galvanized (zinc coated:220-260g/m2)
Class B:Hot dipped galvanized (zinc coated:60 - 70g/m2)
Class C: Electro galvanized  (zinc coated:15 - 20g/m2)
This type of fence has four wrap hinge joints, in which two vertical stay wires wrap together to form hinged joint. The knot acts as a hinge that gives under pressure, then springs back into shape. This structure provides easy installation because the hinge "gives" while retaining full height for continuing protection and good looks. Vertical wires are individually cut and wrapped for maximum strength and flexibility.
Hinge joint fencing is the best choice of ranchers for protecting the jumping animals like deers, horses and cows, sheep and goats. The hinge-knot system ensures proper stretching and allows for easier installation over hilly or rough terrain. Uses of our hinge-joint knots allow the fence to give under pressure and spring back into shape. The heavy zinc coating of the wire offers the finished fencing good rust resisting and corrosion.
Fence height is normally from 0.8m to 2m. A variety of heights, hole mesh, spacing and styles are offered for more choices. 
Ring-lock Fencing is composed of rectangles, and where the horizontal wire meets the verticals a small 'ring' of wire is added to stabilize the weave. Under extreme pressure, these rings slide along, and can tighten.
Fixed Knot Fencing for sheep and goat has firm structure, flat surface, uniform opening, good flexibility and long service life.Vertical wires are severely fastened to horizontal wires by a third wire that wraps the joints.Tension curves in the horizontal wires assists in expanding and contracting.
The above information comes from Woven Wire Field Fence
Products List
Wire Mesh Fence Series

Chain Link Fence

Temporary Fence

Razor Barbed Wire

Fence Post

Fence Accessories

Welded Wire Mesh Panels