Barbed Nail Fencing and Shark tooth spikes
Barb nail is made of metal steel plate through stamping. We offer three types according to materials: hot dipped galvanized barbed nail, stainless steel barbed nail, pvc coated steel barbed nail. Galvanized barbed nail spikes are widely used in gardens, factories, airports, military defence and wall protection.
Barbed Nails offer a good deterrent barrier with the features of good corrosion resistance, aging resistance, sunshine resistance and weather resistance.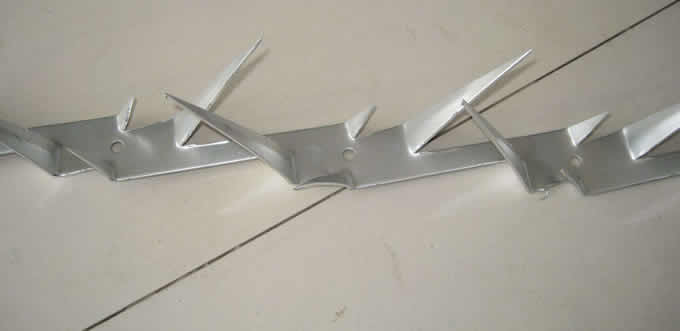 galvanized barbed nails for wall spike
Shark tooth spikes offer safety fencing topping to following facilities:
Existing brick walls;
Concrete walls;
Pre-cast walls;
Wall extension panels;
Palisade Fences and gates;
Ground blockades;
Window sills;
Air conditioning, etc.

Features
• Easy to install (with 3 bolts or screws)
• Fully galvanized (for long lasting corrosion protection)
• Inexpensive*
• Impossible to bend
• Extremely sharp
• Many applications
• Easy transport
• Light weight (1.4 kg per unit)
• Long teeth (up to 58mm)
• Impossible to hang on or to cover
• Highly deterrent
Products List
Wire Mesh Fence Series

Chain Link Fence

Temporary Fence

Razor Barbed Wire

Fence Post

Fence Accessories

Welded Wire Mesh Panels