Triangular Bending Wire Mesh Fence -Curvy 3D mesh panels
We supply two types of curvy 3D mesh panels: common curvy 3D welded mesh panels and 358 high security welded 3D panels. Made of low carbon steel wire, galvanized wire and stainless steel wire. The anti corrosion treatments include electric / hot-dipped galvanizing, PVC spraying or PVC dip coating. 3D Panel Fence Systems are anti-climb modular fencing used in a wide range of perimeter and boundary security applications. High security 358 mesh fence provides high standard security for prison, military facilities and etc.
Production Process: With whole process under Quality Control System
Panel Processing: Wire Drawing → Wire Straightening & Cutting → Wire Material Inspection - Mesh Welding → Folds/Curves Bending → Electric Galvanizing/ Hot-dipped Galvanizing → Parkerizing → PVC Coating /Spraying → Packing.
Panel Styles Options:
2D plus mesh panel- Flat with additional wire 
2D panel without curves
2D plus with one additional horizontal wire every 11 mesh
3D Mesh Panels.
We can produces and provide various triangular bending curved fence panel.
Triangle Bending Fence products enjoy such properties at corrosion resistance, antiaging resistance, sunshine resistance and wether resistance.
Triangular bending square post 3D curved garden wire mesh fence-3D Curvy Welded 358 Mesh Fence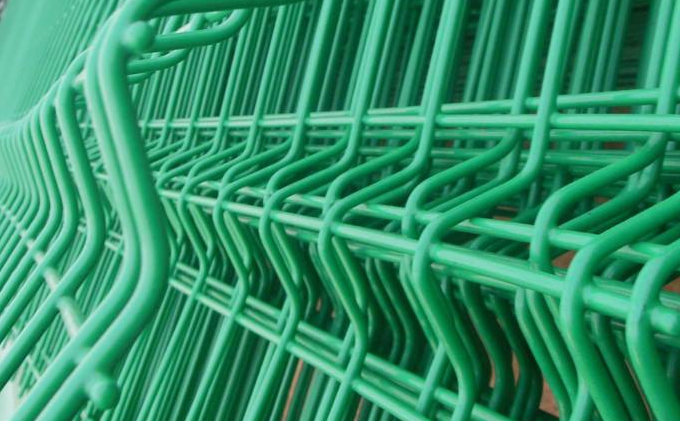 Green PVC Coated Steel 358 Mesh High Security Fencing
Wire/Safety mesh fence made of steel wire;
Hot-dipped galvanized after welded (Zinc coated - Zn 40g/m, Powder coated
Panel heigh: 1225 or 1525 mm
Panel lengh: 2500 or 3000 mm
Wire diameter: 4mm X 1000 pieces and 5mm X 800 pieces
Mesh size: 200x55 mm
Folds number: 2 or 3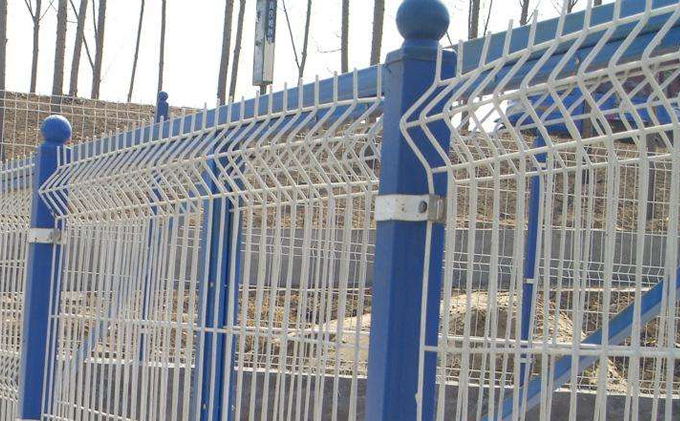 Galvanized Triangular Bending Wire Mesh Fence
Sheet metal V crimped pressing offers good strength and aesthetics effects.
Heavy Hot Dipped Galvanized 358 Mesh High Security Fence
Green PVC Coated Steel 358 Mesh High Security Fencing:
• Heights: 2m and 2.4m
• Horizontal Wires: 4mm @ 12.7mm centres
• Vertical Wires: 4mm @ 76.2mm centres
Fast installation. All components have been developed to provide a professional product of high quality that can be installed efficiently and rapidly.
Triangle Bending Fence Panels Materials: Heavy Low Carbon Wire, Heavy Mild Steel Wire, Stainless Steel Wire.
Triangle Bending Fence Wire Dia. : 4, 5, 6mm.
Triangle Bending Fence Openings : 50x50, 50x70, 75x150mm, 50x100mm, 50x200mm.
Triangle Bending Fence Height: 630, 1030, 1230, 1530, 1730, 2030, 2430mm.
Triangle Bending Fence coating : Forms of corrosion resistance include electric galvanizing, hot-dipped galvanizing, PVC spraying and PVC coating
Triangle Bending Fence Posts: We couldn't supply you various gauge and shape.
Triangle Bending Fence Colours : Standard colours are Green RAL6005 and Black RAL9005.
All outdoor substations shall be surrounded by guarding fence and gates topped with barbed wire or razor tapes.
Height of Fence Panels:
Excluding barbed wire, shall be minimum 1.8m. Commonly above 3m.
Barbed Wire: The mesh panels shall be topped with not less than three strands of barbed wire.
Based on the "V" shape post supported barbed wire, this system offers economically priced perimeter security protection.
Due to the special design of the fence, this system is very hard to break, and more secure than other wire mesh fence.
Material: Low carbon iron wire, galvanized wire.
Clamps: steel or plastic.
Flat mesh panel:
Height(m): 2.03, 2.23, 2.43
Width(m): 2.5 or 3.0
Hole opening(mm): 76.2x12.7mm for heavy 358 type, or 50*100, 50*150 welded common mesh type.
Wire diameter(mm):4-5
Post type with V arm
square post(mm):60*60*2, 60*60*3.
Rectangular post(mm): 60*80*3.
Types of Electrical Substation Fences: We supply 358 mesh, welded mesh and chain link fence for electric transformer and substation facilities.
Products List
Wire Mesh Fence Series

Chain Link Fence

Temporary Fence

Razor Barbed Wire

Fence Post

Fence Accessories

Welded Wire Mesh Panels