Temporary Fence
Temporary fencing is mainly used on the city road, the highway, pool, garden, security of building etc, it is for stopping the crowds, animals and vehicles etc. Variety: welded mesh fence, chain link mesh fence, expanded metal fence etc.
Portable Fence Panels for Construction Site and Public Projects Crowd Control Security Barriers. Galvanized Welded Mesh Nettings with plastic coating or zinc coating are usually used as temporary mobile fences for control of sites security. Major parts include Mesh Panels, Tube Frames, Base Plates and fittings. Temp fence is also called mobile fence, mostly supplied in Modular Welded Mesh Panels with frames.
Finish of surface: hot dipped galvanized, electro galvanized, PVC coating, PVC spraying, PVC after galvanized, paint spraying etc.
Characteristics: even surface, firm welded structure, precise opening etc. It has the good properties of corrosion-resisting, oxidation-resisting, weather-resisting and aging-resisting.
Specification: 2300 x 2000mm , 2200mm x 2000mm etc, we can do the specification as per customer's requirement.
We provides a wide range of temporary fencing systems and products, including:
Welded temporary fence
Woven temp fence
Chain link temporary fence
Temporary fencing with frames
Our temporary fencing systems can quickly and easily be installed, without the need to disturb the surface area by digging holes or laying foundations.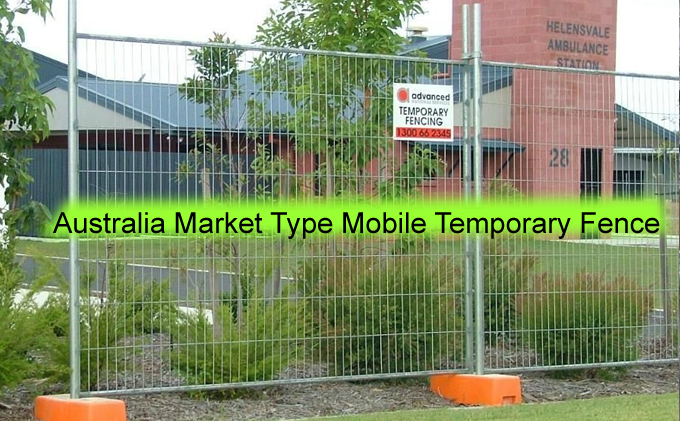 Hot dipped galvanized temporary fence for Australia from china factory-Welded Mesh Construction Temporary Fence
We offers safe and secure solutions for:
1. Temporary fence to secure construction sites and private property
2. Temporary fences of residential housing sites
3. Temporary fencing and crowd control barriers for major public events, sports, concerts, festivals, gatherings
4. Temporary safety fencing for swimming pools
5. Many other uses.
Temporary Fence Panels - These Panels come in many forms:
Construction Site panels form a high security barrier 2.0m tall and are usually supplied with the exclusive Anti Trip, sloping sided concrete blocks for support. Other types of support are available also. The panels, once set up may be wired together or clamped for extra stiffness. Typical uses for these high security panels are major construction sites, house sites, deep excavation sites, electrical installations, and in fact anywhere requiring that 'extra' security.
Public Works Panels are 1.0m high, orange 'high visibility' are supplied with hooks and eyes which make interlocking an easy task and usually do not require extra 'feet' as they support each other in most situations. However flat plate inserts are available when required. Available in 2.4m and 1.2m long panels, these panels are usually hired on a per metre per month basis. Long or short term hire is available, as well as outright purchase.
Portable Stock Yards are for Cattle, Horses, or and other types of livestock, like Alpaca . Stockyard panels are an ideal product for both fulltime and hobby farmers. Whether you need permanent or temporary yards, the portable, modular design means you can begin with just a few panels ,and then 'grow' your yards as your stock numbers increase.
Crowd Control Barriers are designed to suit many applications. From sporting events, to contractors wanting to restrict public access to areas under construction. Barriers may also be used as mobile partitioning within industrial buildings, workshops, and warehousing situations. Although we list two standard sizes, barriers may be manufactured to order.
Welded mesh is one of the most popular fence material we use for construction of temporary barriers.
We supply hot dipped galvanised temporary fence made of steel tubes welded with frame and infilling panels, and base feet. The temporary control system is a hollow section steel fencing used to secure traffic and events.
Material : low carbon steel wire Q195 Q235 .low carbon steel pipe tube 
Surface treatment: hot dipped galvanized 300g/sm zinc; or hot dipped galvanized + painted.
We supply frame tube temporary fence with Infill Steel Tube Railings, designed for easy installation by using:
Galvanised clamps;
Three types of bases: bridge feet, cross feet and flat feet type.
Specification:
| | |
| --- | --- |
| Pipe diameter | 3-5mm; 6.0mm-10mm, or custom |
| Mesh/Opening | 60*150mm; 75*75mm; 50x50mm; 60x60mm; 75x100mm; 75*150mm; 50*100mm |
| Height X width | 2.1*1.1m,  2.1x2.9m, 2.1x2.4m, 1.8x2.4m, 2.1x3.3m, 2.4*1.2m, 2.5*1.1  or as request |
| Frame diameter | 25mm, 32mm, 38mm, 40mm, 42mm, 48mm  |
| Bottom foot | Detatch cross,   bridge type, flat |
| Polyester painting color | Any RAL series color |
Applications:
Protection from theft and accidents;
Secure building area;
Special event crowd control.
For major public events, playgrounds, sports, concerts, festivals, gatherings.
Temporary security fence 2400x2100-Australia Temporary Fencing System- Standard Moveable Galvanized Temporary Event Fencing.
Temporary fence for Australia is made up of welded panel,frame with round tube,connector on the top and plastic feet. It has good shape and firm structure, with removable capability and adaptation to surroundings. It is easy and simple to transport and handle. Because recycle and low cost , it is also a kind of environment product .
Temporary Fence Stays.
High quality Temporary Fence Stays used to support the temporary fence in high wind areas.
Hot Dipped Galvanized to Australian Standard–42 Microns
Specially designed for extra strength so fence stands up in very high winds.
Each Stay requires 3 Clamps and 2 or 3 Plastic Feet.
Temporary Fence Clamps.
High quality Temporary Fence Clamps used to secure the panels together.
Heavy duty 4mm thick steel Clamps are used to join the Temp Fence panels together and to attach support stays to the panels.
Formed for strength to resist bending and twisting and keep your site secure. Comes complete with a bolt and nut.
The temporary fence panels usually stand 2100mm high and 2400mm wide. These panels and mesh are hand welded with superior quality 4.0mm mild steel wire for optimum strength and are hot dipped galvanized for durability.
The temporary fence panels comply with Australian Standard AS 4687-2007, when used in conjunction with temporary fence plastic feet (infilled with concrete) and clamps.
Hand welded joins
Hot dipped galvanized
Australian Standard AS 4687-2007
Applicable:
Commercial Construction Sites
Domestic Housing Sites
Pool construction
Sporting events
Special events
Concerts / Parades
Local Council Work Sites
Crowd control.
The most popular specification
Panel Size: 2400mm(L) x 2100mm(H)
Frame: 32mm O.D. pipes
Infill Mesh: 4mm horizontal, 4mm vertical,150mm x 60mm spacing
Weight: 24kgs
Finish: Hot Dipped Galvanized conforming to Australian Standard - 42 Microns
Accessory: Plastic feet & clamp & stay(optional)
Other wire diameters are also available upon customers'specific requirements. There are many color options of plastic feet for you to choose, like red, orange, pink, etc.
Products List
Wire Mesh Fence Series

Chain Link Fence

Temporary Fence

Razor Barbed Wire

Fence Post

Fence Accessories

Welded Wire Mesh Panels