Welded Razor Wire
Welded Razor Wire Mesh Fence is a new form of razor barbed wire for security. With blade, this kind of razor wire fence is very practical and it looks beautiful.Razor wire mesh fence can be used as guarding fence, for doors and windows. It can also be used in military.

Material: Iron wire, stainless steel wire.
Surface Treatment: Electro galvanized, hot-dipped galvanized, PVC coated.
Type:Single coil razor wire,cross coil razor wire,straight line razor wire,razor wire flat wrap coils,razor wire fencing.
Application of welded razor wire mesh.
Custom specifications are available at your specific requirement.
Welded razor wire mesh is a kind of blocking material,which is composed of blades made of galvanized steel or stainless steel plate with punching a sharp knife flake and a high tension galvanized core wire or stainless steel core wire.
With its unique appearence and security, welded razor wire mesh can achieve excellent protection and screen effect.
The mainly material of welded razor wire mesh are galvanized steel and stainless steel plate.
Welded razor wire mesh includes electric galvanized barbed wire,hot dipped galvanized barbed wire,PVC coated barbedd wire,and stainless steel barbed wire.
Welded razor wire mesh has the features of good deterrent effects,nice appearence,easy installation,economicial and practical and other properties.
Welded razor mesh is often used as protective fence for factories, gardens, prisons and properties, banks and other places where need high security. Provided in rolls or panels.
Features of welded razor wire fence:
Non-climbing;
Robust welded structure;
Zinc coating improve corrosive resistance.
Available in square and diamond profile.
Welded razor mesh is a multi-functional, high security mesh fencing made of straight-blade netting welded together, packaging into a roll form for transport. Razor wire mesh is used in operations to pave the field after the installation of a blade barrier. This product can protect you and your property, and ensures the safety of the protective barriers.
welded razor wire mesh is widely used to manufacture the wire fence for a fencing system or security system.
welded razor wire mesh is applicable in military field,airports fencing,prisons protection,detension houses,government buildings and other national security facilities.
Package of welded razor wire mesh
Packing will be different based on clients request.
The waterproof paper inside,the woven strip outside.
About 15 rolls per small bundle,and put on the wood pallet.
Or Carton box packing.
Razor mesh security fence the benefits
1 it is almost impossible to climb
2 high-strength steel core very difficult to cut off
3 powerful security fence barriers neat appearance
4 no secondary use, so he will not be stolen
5 extremely simple to install, needs three to four to install molding.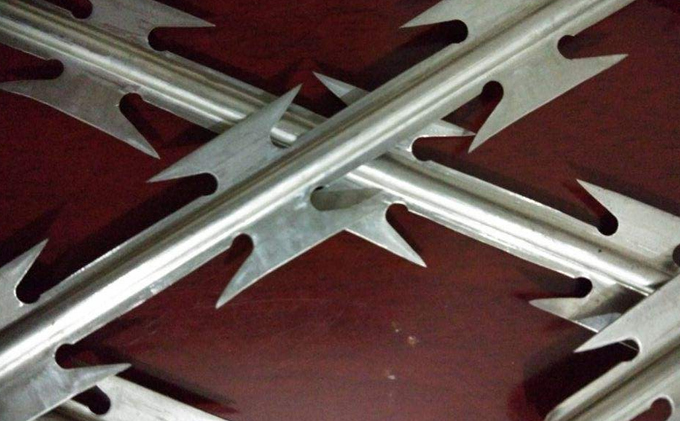 Razor mesh fence is installed in various parts of the world's airports, military bases, water substation, the border fence, oil depots, factories and so on.
This Razor Wire security Fence product is almost impossible to climb or cut off with the standard tools, also it has a neat appearance.
welded straight line razor wire mesh is fabricated by welding straight razor wire in square or diamond profiles. This security fence is designed to prohibit entry and climbing for its sharp blades.
Products List
Wire Mesh Fence Series

Chain Link Fence

Temporary Fence

Razor Barbed Wire

Fence Post

Fence Accessories

Welded Wire Mesh Panels